Hey everyone! I hope you all had a wonderful holiday! I'm back with another Japanese Movie Review on "Let's Go Jets!".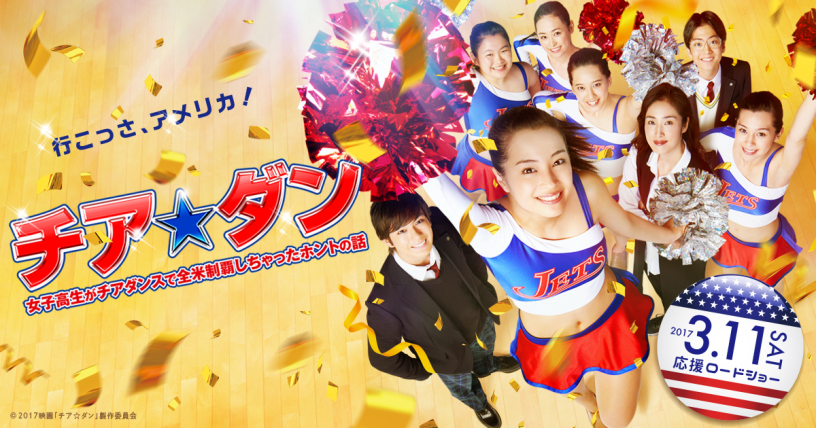 (**Image not mine. All credits to owners)
Plot: Hikari Tomonaga joins Fukui Chuo High School in order to impress her love interest, Kosuke Yamashita. However, their instructor is very strict and expects the girls to enter and win the USA Cheerdance Championship.
Length: 2hrs.
Genre: School, Drama, Dance
My Thoughts: This movie was very heart-warming and motivating. As stated in the plot, it is about a group of girls who practice in order to compete in the USA championships. It talks about girls' struggles in the beginning , since no one really knows what to do, to a complete transformation. I would say this is like the Japanese version of "Pitch Perfect" but instead of an acapella group, this centers on cheer dance. This is the type of movie that motivates people to consider doing things they never tried or were hesitant about. There was a little sprinkle of romance added in and that just made the movie a little cuter.
Characters: I really liked the acting in this movie. The characters were very relatable and realistic, which is one of the reasons why I think the actors/actresses did well. The characters had changed and you can see their growth as the movie continues. Before, no one took cheer dance seriously or they were very poor in their performances, but in the end, the girls worked their hardest and were confident.
Oh, and let me mention! I totally ship Suzu Hirose (who plays Hikari Tomonaga) and Mackenyu (Kosuke Yamashita)!! I didn't know that they also played the main leads in Chihayafuru! That made me watch Chihayafuru Part 1 haha..
Music: Half of the music was for the competition songs and those songs were mostly older American pop or hip hop songs so it was nice to hear a little throwback. Overall, the music was very cheerful and uplifting.
Final Thoughts: I think this is a movie everyone should see. It really details about the struggles of achieving something you really want and working hard to better yourself. It is two hours, but I didn't get bored at all. Also, it must have taken a lot of money to produce this movie. There were a lot of different scenes, not to mention having to find a stadium and crowd for the competition scenes! Seriously how do they record that?!?
-Thanks for reading! Pls. leave a comment, like, and follow! Follow on IG: @kpop9019
~CY @kpop9019